world under canvas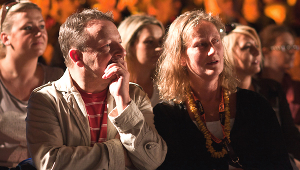 Films selected at the most important festivals round the world: Venice, San Sebastian, Rotterdam, Berlin, Cannes, Transilvania, Riga, Portoroz, Ljubljana, Black Nights, Bratislava – and the ones held in Poland: Koszalin, Gdynia, Kraków.
It's a unique set of films presenting the latest trends in artistic, independent and author's cinema around the world. The greatest emphasis is put on the young European cinema.
Criteria of choice: auteur cinema, artistic films, films characterised by an interesting form, original film language. Those criteria also apply to Polish and foreign debuts which are presented in the festival each year. We only choose films in which the story they present harmonises with the film language; pure experiments, art-for-art's-sake works, are not in our field of interest.
We invite the authors of the selected films to the festival, so that the viewers have the possibility to discuss with them the film they have watched. Our guests at TWO RIVERSIDES are artists from Eastern and Western Europe, from Northern and Southern America, from Asia and, of course, from Poland. They are renowned artists as well as debutants, authors of short and full length films.
date:
29/07/2012
time:
19:00
place:
PGE Cinema
film program:
world under canvas
film program:
the audience poll
artistic program:
films
date:
04/08/2012
time:
20:00
place:
PGE Cinema
film program:
world under canvas
film program:
the audience poll
artistic program:
films
date:
29/07/2012
time:
20:30
place:
Allianz Cinema
film program:
world under canvas
film program:
the audience poll
artistic program:
films
date:
01/08/2012
time:
16:30
place:
PGE Cinema
film program:
world under canvas
film program:
the audience poll
artistic program:
films
date:
01/08/2012
time:
18:30
place:
PGE Cinema
film program:
world under canvas
film program:
the audience poll
artistic program:
films
date:
02/08/2012
time:
21:00
place:
Allianz Cinema
film program:
world under canvas
film program:
the audience poll
artistic program:
films
date:
28/07/2012
time:
19:15
place:
Allianz Cinema
film program:
world under canvas
film program:
the audience poll
artistic program:
films
date:
31/07/2012
time:
20:30
place:
Allianz Cinema
film program:
world under canvas
film program:
the audience poll
artistic program:
films
date:
03/08/2012
time:
16:15
place:
PGE Cinema
film program:
world under canvas
film program:
the audience poll
artistic program:
films
date:
04/08/2012
time:
14:30
place:
Allianz Cinema
film program:
world under canvas
film program:
the audience poll
artistic program:
films
date:
31/07/2012
time:
18:00
place:
Allianz Cinema
film program:
world under canvas
artistic program:
films
date:
04/08/2012
time:
14:00
place:
PGE Cinema
film program:
world under canvas
film program:
the audience poll
artistic program:
films
date:
31/07/2012
time:
18:00
place:
PGE Cinema
film program:
world under canvas
film program:
the audience poll
artistic program:
films
date:
30/07/2012
time:
12:30
place:
PGE Cinema
film program:
world under canvas
film program:
the audience poll
artistic program:
films
date:
02/08/2012
time:
19:00
place:
PGE Cinema
film program:
world under canvas
film program:
the audience poll
artistic program:
films
date:
29/07/2012
time:
16:00
place:
Allianz Cinema
film program:
world under canvas
film program:
the audience poll
artistic program:
films
date:
30/07/2012
time:
16.30
place:
PGE Cinema
film program:
world under canvas
film program:
the audience poll
artistic program:
films
date:
02/08/2012
time:
16:45
place:
PGE Cinema
film program:
world under canvas
film program:
the audience poll
artistic program:
films
date:
30/07/2012
time:
19:00
place:
Allianz Cinema
film program:
world under canvas
film program:
the audience poll
artistic program:
films
date:
02/08/2012
time:
14:30
place:
PGE Cinema
film program:
world under canvas
film program:
the audience poll
artistic program:
films
date:
28/08/2012
time:
20:00
place:
PGE Cinema
film program:
world under canvas
film program:
the audience poll
artistic program:
films
date:
31/07/2012
time:
13:00
place:
PGE Cinema
film program:
world under canvas
film program:
the audience poll
artistic program:
films
date:
01/08/2012
time:
14:30
place:
PGE Cinema
film program:
world under canvas
film program:
the audience poll
artistic program:
films
date:
29/07/2012
time:
18:30
place:
Allianz Cinema
film program:
world under canvas
film program:
the audience poll
artistic program:
films
date:
30/07/2012
time:
19.00
place:
PGE Cinema
film program:
world under canvas
film program:
the audience poll
artistic program:
films
date:
03/08/2012
time:
18:00
place:
PGE Cinema
film program:
world under canvas
film program:
the audience poll
artistic program:
films