Yuma does not sleep
03|08|2012

The characters in "Yuma" do not wait until 3.10 – they smuggle and steal around the clock. In his latest film Piotr Mularuk takes us to the Wild East – to post communist Poland.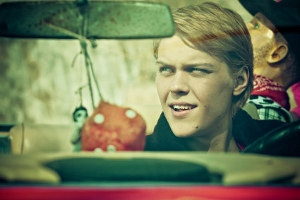 Similarly to classical western films by Delmer Daves, in Polish production Yuma in the title is a prison. It is however more metaphorical than literal. "Yuma" meaning petty thefts, is Zyga's destination. The character, played by Jakub Gierszał, is fed up with living in poverty and admiring the West in the photographs from youth magazines. He takes his life into his own hands and exploits recent fall of the communism and chaos in the streets. Owing to omnipresent anarchy, his friends as well as his resourceful aunt he becomes a gangster or the king of Yuma, as the others call him.
The picture by Piotr Mularuk is an ideal exploitation of the rebellion philosophy theme, this being the central idea of the 6th Two Riversides Festival. Young people do not accept the present state of affairs – they want brand clothes and electronic gadgets. Their disapproval initially affects their lives in a positive way, only to start steering towards an ever  more dramatic finale. The story ends with "Zyga's little drama", as Jakub Gierszał phrased mysteriously in an interview.

"Yuma" is a thriller whose style resembles that of "80 million" by Waldemar Krzystek. The main character manages to steal a few scenes while the rest of the cast succeed in smuggling a dose of good humour. A perfect job.
Dawid Rydzek