In the land of flashlights and autographs
31|07|2012

This picture raised discussions long before its official launch. However only one person was the focus of attention. And what about the story the film tells? "No film is able to capture the cruelty of war" – admits Angelina Jolie, the director of "In The Land of Blood And Honey".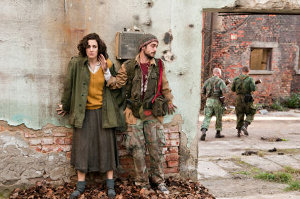 One of the most renowned Hollywood actresses, a number of times vowed the world's most beautiful woman. A wife to an equally recognisable man, a mother to a little brood. The centre of numerous scandals.  Bombed both with love and with hatred, she incessantly tries to protect the privacy of herself and her family. At one point she gives up acting for some time to stand on the other side of the camera. She begins to write a script because she feels her moral duty is to learn more on the Balkan war. Only later the idea is born to take the script onto the big screen.

Jolie appears on the set. Articles, gossip. She is too thin, no – she is too fat after all, what is she thinking, she cannot direct films, the script is not hers, it is plagiarism. And the story? A love story. If it was not for the war it would be one of many.
"I would say this is a love story that might be beautiful but was not fulfilled because war changes everything. Experiencing it, I realised it changes not only the landscape and human lives but first of all it changes the people themselves." – says Zana Marajović, the starring actress.

Ajla meets Danijel right before the catastrophe. They fall in love. However after a short time it turns out they have to be enemies. She – a Bosnian, him – a Serb. Straightforward war scenes. The critics say they are too straightforward and made shallow in addition. The director defends herself saying that war is brutal and touches upon everyone and for this reason a film on war must be a moving one. In truth, the film should be able to defend itself. But to do so – it must be seen first. At best in the PGE Cinema in Kazimierz Dolny. 
Joanna Szmidt