Closing gala with a royal threesome in the background
04|08|2012

Dozens of film screenings. Meetings with artists, concerts, theatre shows, exhibitions. And yet all good things must come to an end. The Closing Gala of the 6th Film and Art Festival Two Riversides will be held today at 4.30 pm at the PGE cinema.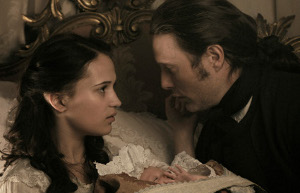 As every year the Closing Gala will be hosted by Grazyna Torbicka, the artistic director of Two Riversides. She will tell us which films were the most popular and which grand names visited Kaziemierz Dolny. She may even disclose a few details from the next year's edition.

The festival will be concluded with a premiere screening of "A Royal Affair", the film awarded two Silver Bears at 62nd International Film Festival in Berlin. It recounts a true story of a royal love triangle. Famous affair of Caroline Mathilde House of Hanover – the queen of Denmark and wife to the king Christian VII with an influential politician Johann Friedrich Struensee changes the country's future. The affection between the two leads to court revolution, divorce of the royal couple and the queen's expulsion from the country.
"No one wanted to believe that the story actually happened. And yet. The plot was based on authentic, extremely dramatic events that changed the course of European history" – says Nikolaj Arcel, the director of the film.

"A Royal Affair" is not only a classical costume drama. It is also a tragic account on deep feeling, human passions and hopes. It is a production where grand ideas become a starting point for depicting a love story.

Is this a recipe for a good film? We shall see for ourselves today at 4.30 pm at the festival PGE cinema.
Paulina Pacanowska