What is the person in Munch's "The Scream" thinking about?
30/07/2012

It might seem they have nothing in common. Two women. Worlds apart. Two different stores. But…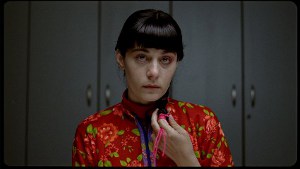 "The Woman Who Brushed Off Her Tears" by Teona Strugar Mitevska is a story of two women: Helena (Victoria Abril) and Aysun (Labina Mitevska) who live in two entirely different parts of Europe. Their lives are  far from easy. Helena is struggling with family tragedy and her son's  death. Aysun is fighting for survival in  male-dominated Macedonian world. She is striving to protect her family and her honour from strong influences of patriarchate. In an unexpected moment the paths of the two women will cross. What will be the result? We shall  see as soon as at 7pm in the PGE cinema at the first in Poland screening of the film.

Mitevska explains her film as a production that toys with various conventions and flirts with the viewers by focusing most of the time on the two female characters and conflicts in their lives. "The woman who brushed off her tears" is a story on strength and vengeance, portrayed additionally in an untypical, in every possible respect, way.
It is difficult to determine where the border is between what we, as the society, are able to accept and what we call fighting for your own identity and where breaking societal norms begins. Moreover, the film provokes reflection on contemporary models of family and their numerous distortions.

Strong performance of Victoria Abril should also be highlighted. In one of  the interviews, the actress admitted that while shooting the film she frequently resorted to the painting and to Munch's The Scream in particular.  "I have always wondered what the person in the paining is thinking" – said the actress. "Now I know. He/she simply has watched our film".
Dawid Świeży