Not quite a classical love story
02|08|2012

Lee Daniels, the filmmaker of "Precious" returns in a new gown. This time he takes us to Florida where the heat and alligators will not be the only dangers we will be exposed to.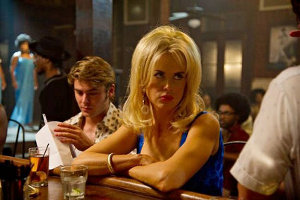 "The Paperboy" is a story told through retrospective narration. We see former maid with the Jameses, Anita (Macy Gray), being questioned. Who is questioning her? Why? We have not a slightest idea. Anita takes us to sunny Florida, to the year 1969 where Ward James (Mathew McConaughey), a Miami Times journalist, is seeking the truth on the case of Hillary Van Wetter (John Cussack). His fiancée, Charlotte (Nicole Kidman) is travelling with him. The journalist's younger brother, Jack (Zac Efron) immediately falls in love with her. What will be the fate of the characters? You may find out at 7pm in the PGE cinema during the Polish premiere of the film.
The strongest aspect of the film is its cast. John Cussack is brilliant as the repulsive individual sentenced to electric chair. Nicole Kidman does not play a typical American star. She ventures far beyond the convention. In the film Kidman plays a character that is funny and tragic at the same time. It is a must to see the film, be it only for her performance. Casting Zac Effron in the role aroused considerable controversy. It cannot be denied that he evokes immediate associations with oversweetened Disneysque characters. In this case the director cleverly exploited his boyish charm. What is more, it is him now and not McConaughey to flash his bare chest even when it is not the script.

Erotic scenes are undoubtedly another controversial aspect of the film. And therein there is plenty of them. However, it is not the content that is surprising but the way they were shot. The very realisation of the film  makes quite an impression. Lee Daniels tuned perfectly into the ambience of that period. The way he exposes sweating bodies, changes the form of the picture when the characters have hallucinations makes the audience experience the heat the characters are immersed in. Daniels did splendid making an adaptation of Pete Dexter's novel.

You may go to see "The Paperboy" expecting a disaster and yet you may still have a good time. Contrary to what we hear at the beginning of the film, it will not necessarily be a detective story. The border between a murder, animalistic desires of the characters, their acting and Nicole Kidman herself. "The Paperboy" is simply a fairly intelligent and gripping thriller.
Dawid Świeży