The moment the rebellion is being born
30|07|2012

In the documentary "Rock in Reykjavik", termed also a rockumentary, we will be able to witness the beginnings of the alternative music scene in Iceland and this means, inter alia, a 14-year-old Björk on the eve of her world-wide success.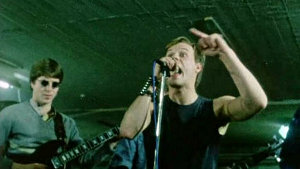 Films by Fridrik Thor Fridriksson may be seen as Iceland's landscapes preserved on film. A good example may be his most renowned work "Children of nature", a 1992 Oscar-nominee for Best foreign language film. Despite his weakness for beautiful landscapes, Fridriksson always puts a man in the foreground.  He began his career as a documentary film maker and most probably will remain one until the end.

One of his first documentaries was "Rock in Reykjavik" from 1982, where he captured the beginning of Icelandic alternative music scene. At the beginning of the 80's post punk and new wave bands were set up in stacks and Reykjavik became regarded as a "town with the biggest number of bands per inhabitant." 
The director selected from the crowd 19 bands phasing out of their "garage" period and recorded their performance and honest opinions on music, rock'n'roll lifestyle and politics.  

Fridriksson not only captured the moment of a few stars being born (among the others Björk – a singer performing with "Tappi Tikarrass" at that time), but first of all he managed to speak about the rebels of music without being judgemental or labelling. Owing to this "Rock in Reykjavik" has become respected and well remembered  in the cinematic circles. This year, in one of the bars of the Iceland's capital an event was held – a homage to the film titled "Rock in Reykjavik 2.0" – with performances by a number of artists from local musical scene.  

The film had a modest debut, similarly to the artists whose story it tells – it was first broadcast by a local television. Today at 9 pm, after 30 years from its first screening, Polish audience will be able to see it for the first time on the big screen of the festival PGE Cinema.
Wiola Myszkowska