Little Cannes in Kazimierz Dolny
18|07|2012
The program of the 6th Two Riversides Film and Art Festival features as many as seven films which were presented as a part of the Main Competition  of the 65th Festival in Cannes.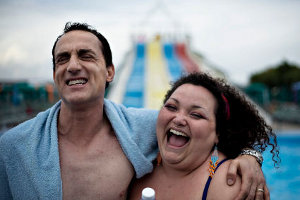 At the opening of the Two Riversides we will see "Reality" (Grand Prix Cannes 2012). In this new picture Matteo Garrone, the director of "Gomorrah," concentrates on the phenomenon of television vicariousness. "Reality" was intended as a comedy but during the work on the script it became a dark drama. Massimo Gaudioso, author of the script, will speak about the process of film "writing" to the festival audience.

In Kazimierz Dolny we will also see the Polish premiere of this year's Cannes sensation. "The Angels' Share" (Jury Prize) by British director Ken Loach surprises, because no-one going to see this film expected to see an excellent gangster comedy set in the reality of contemporary Scotland. John Henshaw, who plays one of the main roles, will be a special guest at the Polish premiere.

The Two Riversides program also includes: "Holy Motors" by Léos Carax (a film fairytale for the 21st century), Carlos Reygadas' "Post Tenebras Lux" which was awarded for best direction, and "Beyond the Hills" by Cristian Mungiu, awarded by the Cannes Jury for best acting (Cosmina Stratan and Cristina Flutur) and for the script.

Our program will not lack Cannes' most controversial film. "Paperboy" by Lee Daniels divided the audience and the critics. Nicole Kidman, who played one of the main roles, surprised everyone. During the Two Riversides we will also see the premiere of "Night Across the Street" – tha latest film of Chilean director Raoul Ruiz, who belongs to the generation that revolutionised cinema in the '60s.

The festival will end on the 4th of August with the premiere screening of "A Royal Affair" (directed by Nikolaj Arcel). The film was nominated for the Golden Bear (Berlin 2012), and awarded for Best Actor and Best Script.

The tickets to this year's Two Riversides Festival can be bought online at: http://sklep.icomarch24.pl/dwa_brzegi/. See you in Kazimierz and Janowiec nad Wisłą. We are waiting from the 28th of July until the 5th of August.