Playing marbles with Ruiz
31|07|2012

Almost a year after his death the Chilean director Raoul Ruiz remains equally mysterious. This time with regard to his last production – "The Night in Front". A baroque meditation on death, memory, and passage of time.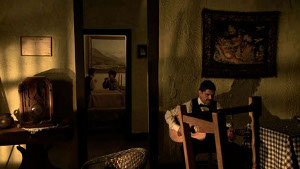 Inspired by texts by Hernan del Solar, Ruiz made an untypical film. The storyline spans over a few decades from half till the end of the 20th century. It is never certain which moment we are in. Such shifts between points in time break generally acknowledged rules of classical narration. Indeed, as pointed out by the ageing Don Celso, time is like "playing marbles" and our lives – a series of crossing events, retrospections, dreams and fantasies. On the other hand, Celso defines our existence as "butterflies of uncertainty" which also is a reference to Ruiz's previous works.
"The Night in Front" is funny and extremely ingenious till the last second. Typically of Ruiz, camerawork is far from failing. Cinematography by Inti Briones is very colourful, especially when it comes to employing warm shades of pink and brown. Sensible, extensive and full of reflection, the dialogues successfully draw the viewers' attention. One watches the film with all the more passion as when credits are passed, sudden awareness appears that this has been Ruiz's last work. We may imagine him shout "cut!" on the set. For the last time in his life. Or was it really last?
Dawid Świeży