A diva in a grown man's body
01|08|2012

Jimmy Scott is an outstanding singer. The question is then why such remarkable talent has been so greatly underappreciated. The time has come to change this. Will the latest documentary by Yoon-Ha-Chang contribute to the change?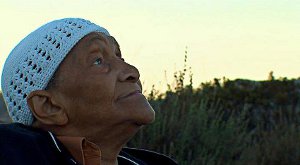 A small concert room. Smoke hanging in the air. The stage. A microphone. A Man. Short. 1,5 m high. A voice. His voice. And you have absolutely no idea what to say. This is Jimmy Scott signing. "Rising Above the Blues" is a documentary on one of the most significant personages in the history of jazz and pop. It is all the more surprising that he was nearly forgotten. There is no mention of him even in the Polish encyclopaedia  of jazz.

He was born in 1925. Because of his height he was immediately nicknamed "Little" – which can by no means refer to his voice. He sings a wondrous soprano. One may get the impression that at one point it is a small child singing and at another a mature opera diva.  It is caused by disease Jimmy Scott suffers from –  Kallman's syndrome. One of its symptoms is non-completion of puberty, including lack of voice break. Despite numerous hindrances in his life, Jimmy Scott has never given up and always pushed forward.
Numerous artists were fascinated by the jazzman. Ray Charles was a huge fan of his. Lou Reed, in turn, used his voice on the record "Magic and loss". Scott sings chorus in the track "Power and glory". Do you now recognize the person? Well maybe then you remember the last episode of the Twin Peaks series. When agent Cooper walks through the labyrinth of hell, a dwarf jumps out and starts dancing – in the background a beautiful female voice can be heard. This is Little Jimmy Scott. Until now two his records have been released. Part of the songs may also be heard on a compilation from Savoy, a record company he cooperated with. Many refer to him as to the greatest voice in the history of jazz. It is mandatory to get to know his musical output.  I am convinced that it will not disappoint any one.  

"Rising Above the Blues" takes us on a musical journey through Scottie's life, moving as it is. We are accompanied by international celebrities such as Joe Pesci, Quincy Jones and James Moody, all enchanted by his astounding voice. An extraordinary film on an artistic icon, a man who has never lost hope or ceased dreaming.
Dawid Świeży